I recorded a class about how to do energy work with your clients. Simple easy tools you can implement right away, as well as links to resources if you want to learn more and go deeper.
I have cut down on my doula client load and am really focusing more on helping women with energy work as they prepare for birth, recover from birth and as they shift to becoming mothers. I love it!
I share my tools and techniques with you, so you can add them to your tool belt to better help the women you serve.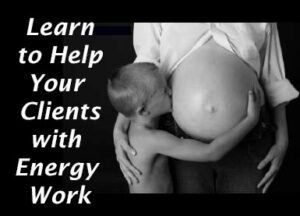 I have been a doula for almost 10 years. I love being a part of such an amazing pivotal moment in a families life.
There are challenges that can arise for both the birth worker and the moms (and dad's and baby) before, during and after birth. I started incorporating energy work in my life and doula practice over 4 years ago and found it made a very positive impact for my clients as well as for myself!
There have been quite a few births where I have come home in need of emotional clearing myself. These tools I am teaching will help you to stay grounded and protected during a birth, or meeting. As well as tools to help you recover after.
Increase Your Skills
This class is geared towards any birth worker looking to increase their skills, to add tools to their toolbox to help their clients have the best pregnancy and birth possible. It isn't possible that every birth goes perfectly smoothly, so these tools are also useful in helping people to recover and move past difficult births.
For ANY Birth Worker
You do NOT need to know anything about energy work to take this class. I will teach you tools that you can apply right away. Also experienced energy workers will benefit as well, to see how to apply these tools during pregnancy, birth and postpartum!
Details
The recorded class and handouts are available right now. Just donate below and you will be directed to the page with the details.
Sign Up Here